Formula 1
Secret Diary of Michael Schumacher: Part 16
Thursday January 09 2003
Part Sechzehn: Schumi's New Year resolutions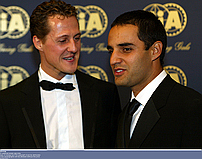 Happy New Year tifosis. Firstly let me say an apology for my last submission that is coming to you in not the exact words I would probably have chosen if I had been completely straight.
I think you have possibly recognized that it was the too much lager talking to you. Ralf once said about me, "Er ist schon nach zwei Halben betrunken"*. I said no, but now I think maybe yes.*
I am having a nice New Year festival with Jos Verstappen and his family on Norway. I feel relaxed with Jos ever since we enjoyed a good partnership together at Benetton in 1994. I made the headlines for becoming the World Champion and he made the headlines for going up in flames at Hockenheim.
I don't mention this to him because perhaps it is somewhere in his mind, but I notice that when we have parties in the summer he is never standing too close to the barbecue.
If I take a moment to think, it is strange how our careers have walked up different paths since that time together. I am now the most successful F1 driver of all time, and he is just starting at Minardi. And yes it makes me feel very humble to have been favoured by the almighty in this way. Though I never call Jean that to his face. (A little humour, in case you were wondering)
I confess to you I am getting pretty much fed up with everyone saying that I have won the 2003 championship already and that Ferrari are the winners of the constructors' title. I am really not wishing to think like this until everything is safely in my pocket. Many things could happen. Williams will have a stronger chassis, McLaren will have a stronger engine, Michelin will have better tyres, Kimi will be more experienced (or perhaps they will have programmed him better). These are sure-things guaranteed.
And that's not counting for some rarer occurrences, I might have reliability problems, Renault and Honda might have found more speed, even Rubens might win races. Never count your ducklings before the fox has visited the pond, is my answer to those people who are giving me the title wrapped up in a box.
I have been presented with a lot of nice awards from sporting people. The French newspaper L'Equipe voted me their Champion of Champions for two years running. But I have to report a very strange achievement.
The German Society for the Preservation of the Very Long Sentence awarded me their Companion Of Honour for my work at FIA press conferences in 2002. They say they particularly liked this one.
"I have been interested in running a rally car in the past but I have to say that I am less interested now because I'm not so much into it any more, so maybe one day when I have time enough I would like to do it in a safe place because I'm not interested in going through the forest and risking my life."
Sometimes I cannot believe these people.
I am looking forward very much to our Marlboro skiing weekend in the Dolomites, but until then here are a few New Year Resolutions that I have assembled together.
My New Year resolutions.
No attempted dead heats - for, I think, obvious reasons
No jumping on Ross Brawn, even when he is expecting it. He has warned me that his back cannot stand much more of my celebrations.
No tucking my T-shirt into my trousers. My new friend Juan-Pablo has said it's not cool. "You look like a f******* dork, man," is how he described it, without beating his bush.
No drinking large quantities of lager before important speeches (see Tagebuch 15)
No team orders (ha ha ha ha)
No bad words between myself and Ralf's wife (for Christmas she bought me a Tyrolean hat and some lederhosen, "so you can blend into the crowd at the Austrian Grand Prix" she smiled - crow)
To become 50% funnier. Obviously.
* he gets drunk on two pints
---
<< Part 15 | Secret Diary of Michael Schumacher | Part 17 >>
---
Disclaimer: I am not the author, but have archived these entries for posterity as I felt that they were so well written by "Michael Schumacher" for Planet-F1 (who have removed almost all of the originals from their website).