Formula 1
Secret Diary of Michael Schumacher: Part 12
Tuesday October 29 2002
Part Zwölf: Michael is NOT pleased at some of the changes introduced by the F1 Commission. In fact, he's very angry...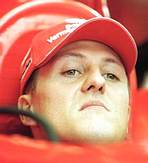 To anyone who has not been on the Planet-F1 this week, the F1 Committee have finally reached their decision making. I expect you will be wanting to know how I am reacting to all the changes announced by Max and Bernie. And I will tell you my verdicts on them if you will stay patiently.
First, a few snippings of news from around my home life that will interest. We sent Frau Blucher out into the garden to recover Gunther the tortoise (which Mika Hakkinen gave to me) for hibernation purposes. She was gone all afternoon and Corinna suddenly realized she had not received her usual quantity of moans at 4.35pm. Which on this occasion was worrying.
She was just about to make a search/rescue bid for the old fossil when, Bang! The back door slams shut and in comes Frau Blucher panting like a dog in a hot car. She has lost her glasses and has finally returned to the house with a large stone in the shape of a tortoise. Corinna said she had not laughed as much since Ralf tried to sing a version of Gloria Gaynor's I Will Survive at the Schumacher family karaoke night in 1996.
Gunther, naturally, has his own sponsorship deal with 'Deutsche Vermögensberatung' and has a nice logo painted across his shell for identification. When you pick the little fellow up and hold him at eye level, you immediately notice the similarity between him and Niki Lauda.
After being called into action in my role as supremo of the Grand Prix Drivers Association in Suzuka I felt it maybe time to spread some influencing. To this result I e.mailed Kimi Raikkonen to see if he would be at the FIA awards night in Paris and would he like to meet for a drink before the event? I also mentioned to him that it would not be such a formal chat and why not bring his partner, Jenny, as I promised not to talk 'shops' all night.
One thing that I have become furious about is comments by one Mr Ecclestone who we all know. I am reading comments in the paper that is coming straight from his mouth. "If Montezemolo paid Schumacher a reasonable salary he'd have $40 million more a year." That is pretty funny from a man who makes more money in a year than ALL the drivers and team bosses put together in a hat.
Quite obviously he is of the opinion that I am ruining 'the show' and would like me to retire so that he could earn more money. (What does he do with all these piles of money. He is certainly not spending it on haircuts. He earns so much money yet he is still cutting his own hair!) One moment he wants to help Ferrari win the World Championship, "instead of those dull accountants in Woking" he told me one time. And to this result he is getting Charlie to ban all of McLaren's best gizmos. Now when McLaren are stranded on their backs with their legs waving in the air, like a beetle that is rolled over on a concrete path, he wants to stop me winning.
Still, now to the bit you have been waiting for, or skipping your eyes down the page. What is my thoughts on the new regulations regarding team orders, qualifying and points?
I am very very annoyed. In fact I am about as angry as I was on that famous day at Spa when I wanted to bash David Coulthard's jaw into a shape that did not remind me of the latest Star Trek movie. How are they daring to make such stupid 'improvements'? It is not appropriate.
I was expecting a rather good result to the meeting with some nice changes. I was excited so much at swapping teams in 2003. One race at Jaguar, one race at Renault, one race at... "Ouch, that cockpit's tight, it must be Sauber's chassis for midgets", one race at Minardi. It was going to be a fun season. And better for me, (than Ralf), because I am the one in the family with the lean bottom.
Also, one of my strong points - I was reading on an English website - is that I am "quickly out of a box." And by this I am interpreting I can jump into a car and make it go quickly, should I care to drive it into a box and out the other side. So this is a pleasure I will not be enjoying in my final season of F1. To share my great talent amongst all the teams of the grid would have been a nice farewell. Sure, my heart is always in the Ferrari, and always with my tifosis, but I am naturally a great giver of joy to people and next year I cannot be spreading it as far as I wish it to have been spread.
The other area of great unhappiness is that the F1 decision constructors have boarded up my living room. Spa is gone. The scene of all my tremendous happinesses is to be axed from the 2003 grand prix list. Ralf does not care. I cannot repeat to you how he described my Spa but it is enough to say, 'a place in the ground where the toilets are positioned'. I hate to describe my brother this way but sometimes I think he is a complete palestine.
---
<< Part 11 | Secret Diary of Michael Schumacher | Part 13 >>
---
Disclaimer: I am not the author, but have archived these entries for posterity as I felt that they were so well written by "Michael Schumacher" for Planet-F1 (who have removed almost all of the originals from their website).