Formula 1
Secret Diary of Michael Schumacher: Part 13
Friday November 15 2002
Part Dreizehn: Michael is in an upbeat mood after finally pulling off the Swiss property deal that will see him become Farmer Schumacher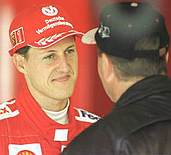 Hello my tifosis! I am feeling, as my friend Nigel Stepney is always telling, in a good cracking mood.
"Why?" I can hear you questioning. Simple.
Lieblings Doughnut and I have just bought some more land near our beautiful home at Vufflens le Chateau in Switzerland and now our dream of becoming a farm is closer.
It will be so nice to surround ourselves with so many horses and we will be able to plan for our future together, doing things that are natural and farm-like. And though I would not tell anyone this fact out in the open, it is one big spinning finger to our local planners who gave me a blockage before. They can stick their cuckoo as far up the clock as it will go, because now I have what I want.
The new property is close to Lac Leman so maybe, in the future I will buy a boat and go fishing. What a simple life that would be - a simple farmer and fisherman who is also a six times World Champion.
I spoke to Nigel Mansell at Spa and it seems to me all he ever does these days is play golf and wear a hat that says Sunseeker. I was told by Ross that this is a naturist club in Spain which he is helping promoting but I do not wish to contemplate too often the thought of a naked Nigel Mansell. Freikorperkultur (FKK) is part of the German way of life... and that is why I have moved to Switzerland.
With all the excitement of what we will do with our new estate we have the perfect excuse not to go and visit Ralf in Salzburg this Christmas. Last year it was the whole Schumacher family, Rolf, Mutti etc at Vufflens and I can tell you, it was really a big strain having 'the crow' (as I used to call her but no longer) in the lounge. Though I have vowed to get along better with the woman, there is something about her that grazes me.
Corinna puts it down to unconscious jealousy, that I am no longer the biggest influence in little Ralfy's life and that now she is, but I do not think this is correct.
I think, honestly, that if he had married the girlfriend of - taking someone completely at random, the girlfriend of Kimi Raikkonen - there would have been little difficulty. She is a sweet girl with a nice nature and not a conniving, manipulative bitch that makes him so sour-faced. Not that I am accusing Cora of that because I am not. I am just letting my thoughts explore situations.
I hope I am getting that clear to you now.
Lucky for Willi that I was in such a good mood when I am hearing what he has told to Sport Bild. Basically he is saying that Ralf can be a World Champion if Williams stop giving all the favours to Juan-Pablo. It is totally wrong and not appropriate for him to say this. Obviously everyone is expecting me to agree with him and say yes, Ralf is great and Juan is better driving in NASCAR.
But no, I do not believe this.
Okay, Juan and I did not get on so well at first, but now we have dinnered together and things are fine between us. I am also a good friend of Frank. Frank knows an exceptional amount of knowledge about F1 and is a person for whom I have tremendous feelings and respect.
Quite honestly, one World Champion in the family is enough. I cannot think how large the smile on that woman's face would be if Ralf were to win the crown. And I have no doubt she would say "yes, and Ralfy won it without team orders," accompanied by a knowledgeable smile.
Willi works for me first. I borrowed him to Ralf and that is the order of things. And I will quietly be pointing this situation out to him when the time becomes right.
Great news also this week to be receiving Ross Brawn back at Maranello after his painful back. He reminded me, that with the Ferrari Christmas party not too long away now, that he was looking forward to my speech and how he had asked the test team to get some data logging equipment together to ensure that it was at least 70% funnier than last year.
He is so forever pulling on my legs that I was not too sure if it was his British sense of humour or reality. That big teddy bear smile of his is often concealing all sorts of emotions. I never know which way to take him.
He once is telling me he is going to Scotland and that he had reserved a stretch of river for a week in which he was attempting to fish for flies.
Given a choice of holiday between that and FKK, perhaps I would be better off with Nigel Mansell.
---
<< Part 12 | Secret Diary of Michael Schumacher | Part 14 >>
---
Disclaimer: I am not the author, but have archived these entries for posterity as I felt that they were so well written by "Michael Schumacher" for Planet-F1 (who have removed almost all of the originals from their website).