Formula 1
Secret Diary of Michael Schumacher: Part 14
Part Vierzehn: Michael reveals how he was inspired to script the latest Vodafone advert
Tuesday December 10 2002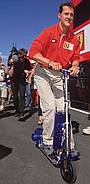 Hello my tifosis! You have not heard from me for some while and I can easily understand that you are thinking maybe Schumi is far away on a deserted island drinking cocktails and rubbing himself in the sun, but honestly, nothing could be further from the truth. I have been in Switzerland organizing our new Schumacher family estate.
With the new land at our disposable, we are able to plan many new and exciting features. The architect is very helpful and is trying to basket all our ideas together into one plan. We have told him we would like a stable block, a garage for 10 cars, a home cinema, a state of the artists gym, a trophy block, a helicopter pad, many fountains, also a go-kart track that is adaptable to at least seven grand prix circuits (for when Ralfie pays a visit) and a miniature fairy story castle at one end of the garden. I have asked him to combine it all in a low-key rural style that will not have the Swiss Green Party shouting that I am some newly rich F1 star who wants to show off.
I am having very many big laughs at my brother's expenses recently. Ralf has picked up another speeding ticket from the Austrian polizei and his licence is in danger of being taken into custody. I nearly laughed when I heard. I sent him an e.mail saying that at last he has made the headlines this year for going fast!
I expected some rudeness of reply, but there came nothing. So then I am digging a little bit further. I e.mailed him, 'Why don't you get Willi to accuse the Austrian police of favouring Juan-Pablo Montoya, because he hasn't got a ticket'. No response is coming for that either.
I suspect Cora is editing them.
Many people have been enjoying my new TV appearances for Vodafone. As a result of my increasing comedy awareness this has made it possible to stand back and enjoy laughter at our own position. One of the adverts - my idea - is that Luca Badoer and I have a race in the paddock on our mini go-ped 20cc scooter machines. We are travelling towards the finishing line and it is so close that one of the Ferrari mechanics has to take our photo with a Vodafone camera phone to see who is crossing the line first. And it is Luca!
This is pushing fun at our US Grand Prix finish and showing to the world that Marlboro Scuderia Ferrari can have funny moments also. For the record, I won the three real races we had before filming started. And people are telling to me that I am a much better actor than David Beckham.
And talking of important, funny moments, my big test is coming up soon at the Ferrari Christmas party. I was hoping that my speech to everybody would be the high point of the evening but I cannot blame Jean Todt for stealing the thunder and lightning and coming on last of all.
Last year he is dressing up as Edith Piaf to sing, 'Non, Je Ne Regrete Rien' in a long black dress with a split up the side. He is what they call on Broadway - a real show halter.
This year I have heard he has bought a big, black wig and will be dressing up as Cher to sing, 'If I Could Turn Back Time'. I do not dare think what kind of costume he is planning.
Paolo says he only does it as an excuse to shave his legs every December, but that would not explain why this is also the case in June. Perhaps he rehearses a lot.
---
<< Part 13 | Secret Diary of Michael Schumacher | Part 15 >>
---
Disclaimer: I am not the author, but have archived these entries for posterity as I felt that they were so well written by "Michael Schumacher" for Planet-F1 (who have removed almost all of the originals from their website).