Formula 1
Secret Diary of Michael Schumacher: Part 2
July 2002
Part Two: Like putting a bear in your fridge!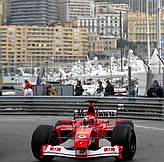 So, we are reaching Monaco for the great Formula 1 rush hour. Ralf made a very good phrase saying the race here is like flying a helicopter round your bedroom. Everyone is telling him this is a really good phrase and so I decided to think up one also while on my 4 hour jog through the mountains (before breakfast). 'Driving round Monaco is like putting a bear in your fridge.' I was laughing thoroughly for the last 12 kilometres.
I told Corinna it is so funny. You go to the fridge, you open it up, there is a bear inside! She said it did not work for her.
It is unfortunate to have situations like Austria, to have things going on like this, but it is part of life. Honestly, I think part of the reasons I am getting a hostile reaction is that I cannot make the jokes like other drivers. Juan-Pablo is making jokes all the time and people are loving him. He says something simple, then rolls his eyes in a very childish way and everyone is then laughing so much.
They say that Germans aren't the best at humour, but Ralf is making the jokes now and getting good reactions, Heinz-Harald Frentzen is becoming Mr.Comedy, and Nick Heidfeld doesn't need to make jokes, he has comic sideboards. I am going to try very hard to make some jokes and show the human side of Michael Schumacher. Obviously I cannot be a 'robot' if I am always making the funny cracks.
It was nice to see my old friend Mika in the paddock with his little son. I suggested to him that he should fly up to Switzerland and spend us a visit, he could even see Gunther roaming round the garden. When I told Corinna she went mad because she and Erja don't see nose to nose and I was not aware of this. That will be a tricky situation.
Something that I am very puzzled about is what has happened to the king of Monaco. There is a Prince Rainier who is in charge. There is also Prince Albert and Princess Stefanie, but there appears to be no king.
Also, a big question I have never heard anybody ask. Why does Prince Albert look so much like Gerhard Berger...?
It was fun, as it usually is, playing football for my charity team with Prince Albert in Monaco on Friday. I have more hopes for our team than the German team in the World Cup, but I have all my toes crossed at once for good luck. That is a reminder to me. I must send Sepp Blatter the Paddock Club passes I promised him for Hockenheim. It was very kind of him to make sure Germany had no games during the weekend of the Canadian Grand Prix so that all my focus can be on the race.
Quite a good reception after qualifying, not too much booing. I think the journalists are happy to be in Monaco. The spectators also were much more receiving of me and of course our tifosis were much in evidence on the hillside waving their prancing horses. I noticed a lot of them had banners for Rubens which is clear to understand in the circumstances. Rubens is a much shorter word to fit on their banners than Michael.
It was so great to see Rubens annoyed after qualifying, just like in the old days. After the Austrian Grand Prix he began to worry me. He was so calm and serene that I am thinking he is joined a cult religion. It was almost like someone had pretended to him that I am retiring at the end of the season when really I am driving all the way till 2004.
The race? A good result for David, a bad result for Juan-Pablo, some nice points for Ralf. I spent 6 laps going quickly and 72 laps trying to work out the best team line-up for Germany versus Ireland. Halfway through the race Ross was very surprised when I got on the radio and asked him if Karsten Jancker had been passed fit. Ross said, "Who are you talking about? Does he work for Bridgestone?"
For me, this is by far the most hilarious moment of the weekend. Only Ralf got the joke afterwards.
---
<< Part 1 | Secret Diary of Michael Schumacher | Part 3 >>
---
Disclaimer: I am not the author, but have archived these entries for posterity as I felt that they were so well written by "Michael Schumacher" for Planet-F1 (who have removed almost all of the originals from their website).