Formula 1
Secret Diary of Michael Schumacher: Part 21
Tuesday April 01 2003
Part Ein Und Zwanzig: Michael is worried he'll have to start grands prix behind Jarno Trulli on a regular basis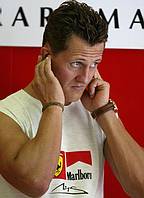 Greets to you my very patient yet still ultimately faithful tifosis!
I can tell this to you straight away without fear of someone saying to me that I am not correct in stating this, that so far, this season has been a strange one.
Two races and not a single sign of a Schumi podium position. All the drivers from the top two teams have been visiting this place but not the Schumacher brothers. It is strangely bizarre don't you think?
Just to let us know that she was still following my progress Frau Blucher our old cleaning lady from Vufflens Le Chateau - who made such a great fuss about cleaning so many of my trophies - sent us a card after the Malaysian race.
The old bat retired before Christmas and so we do not have to put up with her whining about cleaning them up any more. She said to Lieblings Doughnut that if I keep this up she might even be tempted out of retirement. A thin joke of no humour.
We will not have her back of course, it would not be fair on Mika for a start. He is due out of hibernation very soon now the warm weather has arrived. If it was left to Frau Blucher she would be hibernating a large stone and Mika would be still down the garden having frozened to death over winter.
And I guess some more reasons for the bad atmosphere is the treatment my brother has with his wife and the German media. Occasionally I am browsing for fun through the Planet-F1 chat forum and I am reading opinions there that fans believe Cora looks like a 'porn star'. I certainly would not put myself on the record of saying that they are absolutely totally 100% right.
I know I am biased towards little Ralfy, but this is none of his doing and I feel utterly helpless that I cannot help him more. Now, if I tried to help him in a race, and I happened to let him past, the Italian media would be saying something ridiculous like I am betraying the Scuderia or spitting on the grave of Enzo Ferrari.
Already they are saying that it is a disgrace not to finish on the podium in two races. This must be a newspaper run by goldfish with two small memories.
I will achieve a result in Brazil and put a silence to all this nonsense. And talking of nonsense my team-mate, who is a great big giant-sized wuss, will have to wear the HANS collar in Sao Paulo. If you ask my opinion...
"Michael, should he have been allowed to take the starting grid in Malaysia?"
then I will answer that "no, he shouldn't". I have always been one to strictly observe the rules and Mr.Mosley could not have been clearer in his desire for everyone to wear it at all times. Now, we stand level in the championship... a very strange start to the championship.
But this is not all our strangeness done with - now I have to contend with Jarno Trulli in front of me starting F1 races. After the race in Sepang I made sure to make all the correct apologies to the parties concerned.
But secretly secretly deep down inside of me I am furious with him. Take a listen to his press conference after the race and you will hear him mention that his car spluttered two times on the way to the first corner. In the second turn he lifted again and I had nowhere else possible to go. Yes, it looked bad on TV, but only because he should have been many metres further beyond his braking point.
Jenson told me that last year he was a bundle of kittens on the opening laps and that it was quite simple to drive past him even after qualifying two or three places back (which Jenson tells me he's good at).
We shall soon see how it all fans out in Brazil. One piece of good news on my horizon is that we will be able to keep our driver aids all year. I heard a rumour that Mr.Mosley decided to ban them without having any idea how it could be done - so instead of admitting that there was no technical solution he decided to blame Ron and Frank instead.
Apparently he was also going to blame arbitration for the reason he didn't turn up at the races in Australia and Malaysia as well, but he couldn't find the appropriate link.
When I speak to you next time my faithfully tifosis, I will have a trophy for you (and me also).
---
<< Part 20 | Secret Diary of Michael Schumacher | Part 22 >>
---
Disclaimer: I am not the author, but have archived these entries for posterity as I felt that they were so well written by "Michael Schumacher" for Planet-F1 (who have removed almost all of the originals from their website).