Formula 1
Secret Diary of Michael Schumacher: Part 27
Wednesday September 17 2003
Part Sieben Und Zwanzig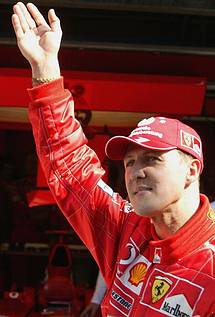 Hello my adoring tifosis.
Well, I don't have to tell you that I feel better than I have ever done since at least Magny Cours in 2002 when I am being thoroughly emotional at my World Champion five times achieving feat. Some say that Monza is the cathedral of motor racing and quite honestly I would agree.
Some of the banners round the circuit said that Schumacher Is God. But I think that is not quite appropriate. All they need to do is add the letter 'M' just in front of the Schumacher to make sure they are not referring to Ralf.
As you know, I have been a little bit in the doldrummers with my twice being lapped at Hungary and Germany and so to come first for a change was very exciting.
Perhaps on reflecting over my press conference comments it is not the BEST moment of my career, but I am truly meaning it when I am giving credit to all the guys who have worked so hard for a very long time at the Maranello factory including the factory guys and even down to the cleaner. I am in love with them, but only in a professional sort way. It does not mean I wish to get in a hot tub with all of them and suck their toes.
That is still reserved for just Lieblings Doughnut and the one who we can simply call Todty.
It was an almost perfect day, my 69th win. It would have been nicer to share the podium with Ralf, but I suppose Rubens had to be there to ensure Ferrari constructor points.
After the race Eddie Irvine rang me up and said I was the first person to do a 69 in an F1 car and laughed a lot. I have no idea what he was talking about.
Our next race is Indianapolis and I don't suppose anyone will let me forget my red-faced moment last year when I was not thinking properly at the finish line. I thought we had finished the race, took my foot off the pedal and found that Rubens had won. This year I don't think I can throw my points around with such carelessness.
When I am in America I would really like to make an appearance on the David Letterman show, but he is always liking Juan-Pablo Montoya who he is nicknaming Zorro. This is stupid because I have never seen Juan Pablo with a sword, neither is he wearing a mask or a hat.
I will take this opportunity to have some time out with the children in the USA. We always love going to Disneyland and going visiting on all the rides like a normal family. Dougnut pudge wudge said that we should maybe start up a theme park in Kerpen and call it Schumiland. She said we could have little cars that go round a track very slowly so they don't frighten the children. It's a good idea. I will ask Eddie Jordan if he wants to sell his EJ13s after the season is over.
---
<< Part 25 | Secret Diary of Michael Schumacher | Part 28 >>
---
Disclaimer: I am not the author, but have archived these entries for posterity as I felt that they were so well written by "Michael Schumacher" for Planet-F1 (who have removed almost all of the originals from their website).