Formula 1
Secret Diary of Michael Schumacher: Part 28
Sunday October 19 2003
Part Acht Und Zwanzig: Schumi explains that party and gives a season's worth of thank-yous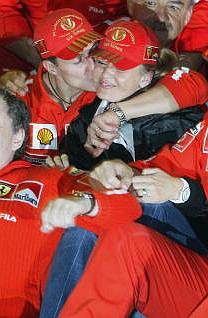 Hello my lovingly faithful tifosis.
I have delivered to you my sixth World Championship, which honestly is one for all of us to share like a big Kentucky Fried Chicken bargain bucket, but not available in so many outlets.
First of all let me explain the party after Suzuka. Some of the outrageous photographs you may or may not have seen in the paper I can give explainings for.
It probably does not matter if you have seen them, the fact is that lieblings doughnut chucchy wucchy face has seen them, so there was more than one big headache to wake up to on Monday.
In case reports leak out I just want to say "I did not know it was a transvesitite and the tattoo is not permanent".
My memory of the post grand prix party is not so good, but I do remember Ralf throwing the television out of the window. I don't remember taking my shirt off, or the incident with the Osaka Ladies Netball Team, but Sabine has said they are not going to press charges providing they can get the stains out.
I can assure you that I am not doing this regularly - perhaps only when I have Championship No.12
It is a great and very nice compliment that my tifosis are paying me when they say that I chose Ferrari over Williams and McLaren in 1996.
Honestly and basically I should let you into the truth. I wanted to go to either McLaren or Williams for 96. When Ferrari said they wanted me to join them Willi laughed and wrote the salary I wanted on a piece of paper as a joke. And we couldn't believe it when they said yes.
It has been a season to remember and I have a lot of thank-yous to hand out.
No.1 for Rubens for not minding that Ferrari gave him 10 less horsepower for the first few races until I had established a good points lead in the Championship. Ross said Rubens knew about this but I am not too sure.
Thank-you to Olivier Panis and the two Sauber drivers for pretending they are backmarkers whenever I come to overtake them.
Thank-you to the stewards at Indianapolis. The Rolex watches are in the post. (Not real ones obviously but they look very similar)
Thank-you to Max Mosley for the tyre thing. Jean will take care of that one in the usual way.
Thank-you to Frank Hopkinson from Planet-F1 for all his support and voting my move at Hockenheim as the best of the year for unusualness. I have sent him a colouring book and some crayons. All red. Ha ha ha.
Thank-you to Fernando, Juan and Kimi for giving us such a great show in 2003. I was just playing with you like a small child plucks the legs off spiders. The title was in my bag ages ago.
Thanks also to Kimi for his press conferences. I thought I was sometimes a dull boring bastard in need of the comedy routine until I sat next to him. When I listen to him it is like listening to the big daddy penguin in Pingu which I am playing on DVD very often to the children.
He says hur-der-fur-ner-kur-ne hur-dur-fur-ner.
And this is also what the daddy penguin is saying.
A Ross Brawn-sized thank-you to, well, Ross Brawn. The big guy is so close to my heart that I feel he is becoming almost a part of the family.
And finally thanks to all my faithful tifosis. You know there is a big love coming out to you from the Schu-meister. With your support I know I can go on to more successes and more records in the future. It is one of the things that keeps me going. Please also remember that there are many new T-shirts and cap available for you to show your love for your Schumi
Ciao.
MS
---
<< Part 27 | Secret Diary of Michael Schumacher | Part 29 >>
---
Disclaimer: I am not the author, but have archived these entries for posterity as I felt that they were so well written by "Michael Schumacher" for Planet-F1 (who have removed almost all of the originals from their website).