Formula 1
Secret Diary of Michael Schumacher: Part 29
Tuesday December 02 2003
Part Neun Und Zwanzig: Back for another instalment, Michael Schumacher's very own private(ish) thoughts...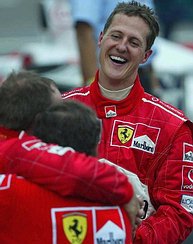 Hello worshiping and ultimately very patient tifosis. You are not hearing me for some moments as I am taking a break.
That is not to say that I am not taking an interest in the news that is going on through this time.
There are many things that are making me interested and a few that are making me laugh. For example, I read the news that Jacques Villeneuve said he wanted to punch BAR boss David Richards. I hope he had a box to stand on otherwise he would not reach.
Also there is the news that Juan Montoya is joining McLaren in 2005... presumably to coincide with when the new MP4-18 will be finally ready.
As you can see my wealth of joking is improving in the off season.
I suppose I am making some news also with my injured knee what is stopping me training with Manchester United. That would have been a great event. Vodafone like to sponsor winners such as Manchester United and Ferrari and also the Australian Rugby team. I must find out what happened to them recently in the World Cup.
Rubens and I are still thinking about the act we will do for the Ferrari Christmas party. At least Toyota have one advantage over the Scuderia at this time of the year. They do not need to hire in the Father Christmas, they can just be sticking a beard on Ove Andersson. I believe he has his own reindeer, also.
For the Ferrari party we are all trying to guess what Jean (Todt) will be dressing as. In past years previously, he has dressed up as Cher, Britney Spears, Gloria Gaynor and Edith Piaf. For most of these pop singing divas it was a struggle to look sexy, but at least when he played Piaf he didn't have to shave his legs or his armpits.
Ross Brawn has bet me 25 Euros that he is coming as Kelly Osbourne. It's a good idea, she is also short, dumpy and ugly only the hair is different.
As many of you know I am a big fan of guitar-based rock (Yeah) such as the Scorpions and Ozzy Osbourne. Ozzy is a very funny guy, he is very old and he hasn't the clue what is going on but loves to be the centre of attention. A bit like Flavio Briatore but with less dogs hanging round him.
Perhaps I suggest to Flav that they do a series 'At Home With The Briatores'.
Actually now I am listening to myself write this down it begins to sound like one of Willi's crazy merchandising schemes. He once had the idea of manufacturing Schumacher toilet seats. That was not a great idea because it would start me being identified with the toilet. People would say things like "Oh, Pizzonia's career has gone right down the Schumacher..." That is not nice.
His latest idea is for a series of limited edition T-shirts, one for every Grand Prix in 2004. They will all be themed with the number 6. So, the first will be - Schumi, the joy of six, the second will be - Schumi, better than six, the third will be - Schumi 666.
I am not so sure about that third one.
Right now my biggest care is not the performance of the Ferrari but my Christmas present list. I have bought a wooly hat for Ross and a nice scarf for Luca, some gloves for Jean, socks for Ralf and a new US$25m Falcon jet for Corinna and me.
Jean Todt is incredibly generous with his gifts. I went to see him at Maranello and he was wrapping up some lovely presents; after-shave for Luca, the finest champagne for Ross, and a model Ferrari for Max Mosley. Sorry, I mean the latest model Ferrari for Max Mosley. The wrapping paper must have cost him 1000 Euros alone.
I will be spending the Christmas at home and then going to ski in Norway with the Verstappen family for New Year. I am joking with Jos that it is a good job Minardi don't make jet planes - otherwise he will be getting there for Easter.
It's the way I am telling them.
MS
---
<< Part 28 | Secret Diary of Michael Schumacher | Part 30 >>
---
Disclaimer: I am not the author, but have archived these entries for posterity as I felt that they were so well written by "Michael Schumacher" for Planet-F1 (who have removed almost all of the originals from their website).