Formula 1
Secret Diary of Michael Schumacher: Part 34
Sunday June 27 2004
34: Part Vier und Dreizig
The latest instalment in Planet-F1's exclusive insight into the inner mind of the greatest racing driver ever to strap himself into a Ferrari. Read for yourself Michael's own secret diary...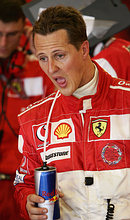 Hello my adoring and almost 100% satisfied tifosis. Well, we are halfway through the season and it is time for my half-term reporting.
I think there is no doubt between us that I am top of the form in 2004, in fact my marks are so good I am almost a teacher's plaything. Quite honestly one of my most favourite album tracks of guitar-based rock is Meatloaf's Two Out Of Three Ain't Bad. Well, I have to admit it, although I am blowing my own trombone here, eight out of nine is a lot better.
The target, of course, is to score 17 out of 18 wins, beat Aye-air-ton's 65 poles record, score the debut win in Shanghai to go along with my debut win in Bahrain and obviously score my seventh World Championship. We are on target, I think.
Obviously it is good that Ralf suffered very little injury from his big impact at Indy. I am joking with him afterwards that it was not as bad as the right hook Cora (The Crow) gave him after he accidentally put all her pvc underwear in the tumble drier back in Salzburg. He said it would only fit the Barbie doll.
This attempt of hers to make a small career at motor racing is aimed at my own precious Lieblings Donut Pudgie Wudgie Face. She wants to get one up and across on Corinna by being the raciest Schumacher wife, simply because her husband cannot do it. It is scarcely necessary for me to say that we have enough trophies in the Schumacher family collection already.
And on this subject, I can tell you that I am in negotiations to buy a small Swiss village to house all my cups and trophies. No, only joking there - had you for a second, eh - some of them will still stay with me at home, and a few will go to the Schumacher Institute in Kerpen.
There is a lot of nonsense talk in the motorsport press about Rubens not being allowed to race me. It make me angry, I have had it so much up to there. My critics say that although Ross Brawn says we are free to race, that secretly I have put my foot in it and said this is not possible. I can confirm that Rubens is certainly allowed to race me. I have no problem with that at all. He is just not allowed to beat me.
For the last month or so Jean has been very pleased with himself for being much in great demand. Not only do Ferrari want him as their Managing Director, but my dear friend Max wants him to be a big cheesy at the FIA. (Incidentally, these are my chances to say I am disgusted by postings in some chat forums - they say that Max is a big lover of German things (meaning me) because he has a German name and that his father was in love with Hitler. Max and I admire each other as true motorsport professionals, that is all. And I want no further comment on it or my soliciting will be notified.)
Jean has an easy choice between his current role - a dream job at Ferrari, or entering the swamp of vipers that is the politics of international motorsport. And he gets a much better company car at Ferrari.
Anyway, Max and Bernie are like a double act that you cannot split up. Jean and Benie is not sounding right. They are a team, a duo, they are like the the Hale and Pace of the FIA (no idea who they are, Nigel S. said it would be a good reference to make).
Back at Maranello we are all waiting the new B-spec McLaren with great anticipation. We are almost asleep with excitement. Ha ha ha. I know we haven't had good times in the past - most notably Spa in 1998, when I wanted to smack his legs - but I will miss David Coulthard if he does not get a drive for 2005. When I look around the paddock now and see drivers like Klien, Glock, Davidson, Massa and Sato, I feel that DC and myself are the grown-ups. Olivier will probably be gone next year, Eddie went last year, so if DC leaves it will make little Ralfie one of the most experienced drivers. And that does make me feel old.
I am going to get on the phone to Mika Hakkinen and get him to come out of retirement. How else am I going to last through till 2008?
(Finally to prove that I have a good sense of humour I have included my favourite photo from the Indy weekend, for all the Montoya fans out there. They are always saying Schumi sucks - clearly this is not true!)
---
<< Part 33 | Secret Diary of Michael Schumacher | Part 35 >>
---
Disclaimer: I am not the author, but have archived these entries for posterity as I felt that they were so well written by "Michael Schumacher" for Planet-F1 (who have removed almost all of the originals from their website).