Formula 1
Secret Diary of Michael Schumacher: Part 4
July 2002
Part Vier: 'For Sure It's Brazil vs Germany'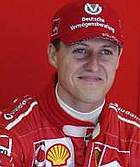 Sometimes I am getting most confused by Flavio Briatore. To be honestly I have never trusted him more than a blind man trusts a greyhound for a guide dog. At times he can be a wolf in a sheep's anorak.
At the Nurburgring he was laughing at comments I have made. After the warm-up I said to journalists my car was 'stucked' in gear, when I should have said 'stuck' in gear. He also found it amusing that I said, 'Rubens is the winner and I am the seconder'.
He came up to me in the paddock after the race and said, "Michael, your eenglish is a peas poor since you leave Benetton."
I have no idea what he is mentioning about. This slang is unknown to me. Why should I be talking peas...?
Though I am not winning in Germany it was a very nice experience for me throughout the weekend, saying hello to my tifosis, thinking about Germany's World Cup semi-final, and joking around with Ross and Nigel.
I have tried to get a Brazil versus Germany football match going on the Friday afternoon after the practice was over. Rubens, Enrique, Felipe and Juan-Pablo would play for Brazil and I asked Heinz, Ralf and Nick to play for Germany. Except Nick is acting like a little girl and saying no, he cannot play, he might get injured.
Nigel Stepney was overhearing my conversation and said that he was acting like a 'big fraulein's blouse'. Yes, okay, there is a risk. But I don't remember anybody I know being injured by a table football machine.
Now we know that Brazil will for sure play Germany in the World Cup final and Willi has asked me to compose a good luck message to send to the team, 'from one German World Champion to the next German World Champions'. I am thinking this is a bit too arrogant and will not do it. We do not know if Germany will win yet. Oliver Khan our goalkeeper is a truly world class player so instead of sending a message which is a not my style I have made with him a bet. If he can stop Brazil from scoring I will ask Mr.Montezemolo to borrow Fiorano for the day, send my jet up to Munich and drive him round as a personal chauffeur. To scare important visitors we have the latest evolution of Maserati 3200 GT, or as I have nicknamed it, the Schiessen Trousers Wagen. Let us hope I have to!
Some of the attention that is received from the tifosi is not always welcome. The obsessive Heidi sent me messages saying she wanted to meet me every day at the Nurburgring from Thursday onwards. I was going to say yes, but Sabine advised me no, it would make things worse.
Ross and I are having a big joke about Jean's Ferrari tops. It is part of my ambitions in 2002 to become a 'funny guy' and if successful, I will be 70% funnier by the end of the season. In the Scuderia we are trying to work out what temperature is required for Jean to take off his woollen Ferrari team jumper. He is keeping this jumper on for even hot race days. I said to Ross that maybe we ought to run a computer simulation to predict it, because the only time he is having it off this season is in Malaysia.
Ross laughed like crazy until tears rolled down his big teddy bear cheeks. Maybe I am 50% funnier already.
I suppose it was a good meeting in Paris, even though we came away with a million dollars missing off our pay checks. After they announced that Rubens and I would get the fine jointly I told Rubens not to worry about the money, I would take care of it. I do mean that honestly and sincerely. There is no rush at all for him to pay me back, I know from my own experience that you have lots of expenses with young children in the family. He said to me, "sometimes, Michael, you have a big heart."
You know, reluctantly, I have to agree.
---
<< Part 3 | Secret Diary of Michael Schumacher | Part 5 >>
---
Disclaimer: I am not the author, but have archived these entries for posterity as I felt that they were so well written by "Michael Schumacher" for Planet-F1 (who have removed almost all of the originals from their website).