Formula 1
Secret Diary of Michael Schumacher: Part 7
September 2002
Part Sieben: 'Honestly, I am not scared of trees'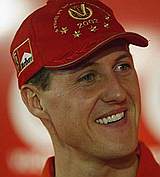 I have been on a great break and thanks to those tifosis who are asking how it has been for me. All I can is - wet! Because Corinna and I take a big holiday in America before the United States Grand Prix I decided to stay home and play 'Daddy Stay At Home' for a change. Which quite honestly, is the best holiday of all.
On the first day it was so beautiful in the garden that obviously I had to be out there playing with the children. I noticed for the first time a Ferrari go-kart the factory at Maranello are sending to us. The children wanted to get in it straight away, but after one push round the garden I noticed things weren't quite correct. I decided to make a few set-up changes. From my own karting days when I was No.1 mechanic on 'Chubby Ralf's' kart, I am still the expert at changing things over.
Time fell past so quickly that it was lunchtime when Corinna yelled at me "Michael, stop fiddling it with it and let the children have a go!" "Ooops," I am answering with a shrug of guiltiness. It was very tricky for me because I was in the middle of changing the anti-roll bar, and stiffening the rear axle.
I am recounting this to Ross Brawn on the phone afterwards and he said, "I bet the children said it didn't go any faster afterwards. "No," I laughed, "I should have changed the tyres also."
Later in the week it was not so funny when the rain and floodings started. We had to rescue Gunther the tortoise from the bottom of the garden after he was stranded behind a giant pond puddle. I asked Willi to send a million euros to the flood relief fund but not make a big thing of it. The next thing I know it was all over the papers and it stirred up more of the arguments about my affairs and my tax escaping.
Some politicians said that if I paid normal German taxes then that would have been far better for the German flood relief fund. I should learn the lesson that in all these things I cannot win.
On the way to the race I was keeping updated on all the F1 news. My old 'friend' (and with this I am writing with the heavy irony here) Jacques Villeneuve has rumours that his team boss wants him to go to Champcar next year. First David Richards tries to get him to take a year off, now his destination is ChampCars. I bet soon he will be telling Tomi Makinen that he is to get a new co-driver in the Prodrive Subaru team.
Earlier in the year I was suggested to race against Colin McRae in a rally car but I am refusing this because it is too dangerous. "I don't like to race near trees," I joked and everyone reported that I was scared. Which, honestly, is not true at all. I was concerned that if I did the challenge then Jean Todt would insist upon being the co-driver and he is getting - how do I place this nicely - too friendly.
A little incident I didn't tell you about at Hockenheim was meeting up with my super-obsessive fan, Heidi. Heidi is 1.90 metres (6'3"), 140kg and works as a bricklayer in Stuttgart. Her real name is Wolfgang and she has a moustache. This is worrying to me.
I am now looking around at people in a different way and feel it will be safer to keep my distances from men. Last year in Hungary I said after the race, "I have a great team and I am in love with all of them." I realise now this is too intimate and not appropriate. Perhaps I am in love with their work, but I am not sending flowers or phoning them up at all the times of the day and night asking to kiss between their toes.
That is strictly between myself and one other.
---
<< Part 6 | Secret Diary of Michael Schumacher | Part 8 >>
---
Disclaimer: I am not the author, but have archived these entries for posterity as I felt that they were so well written by "Michael Schumacher" for Planet-F1 (who have removed almost all of the originals from their website).