Formula 1
Secret Diary of Michael Schumacher: Part 23
Tuesday May 20 2003
Part Drei Und Zwanzig: Last year in Austria he was roasted by the fans, this year he was lightly sauteed in a high octane sauce.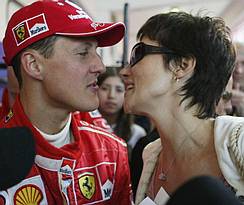 Warm welcomings to my ever-patient but now obviously thoroughly celebrating tifosis.
I am sorry that I am not coming to you with my thoughts over the recent weeks but perhaps you are guessing why this is so.
But honestly now I am able to let you inside once more with maximum exclusive access.
A thing that is honestly making me laugh is Ron Dennis talking of David Coulthard's qualifying lap in Austria as 'a bit unacceptable'.
You cannot have degrees of unacceptability, Ron, this is not correcting English. Though I have to say McLaren-speak is a language all of its own self, sometimes.
Here is my smell example. How many McLaren personnel does it take to change a lightbulb?
Answer (and for this you have to think this in a Ron voice, which might be helped by placing a bramble between your buttocks)
It's untrue to oversimplify the situation and say that the lightbulb needed changing, it was the complete illumination environment that needed enhancing and once we had ascertained the correct procedures and processes to effect our goal, we optimized the incandescent glass sphere/metal connector package to attain defined luminesecne levels in conjunction with our lighting partner.
Apart from another win added to my small, modest total; in Austria I also set a new record. The German Society For The Very Long Sentence (The Bundespiela) informed me I had taken my personal best to close on the hundred mark with this:
"And if you remember we started in a similar way the new car (last year) in Brazil a very tough fight with Ralf and from then on it just went better and as you can imagine, you learn a new car, you improve it as well, because new bits and pieces will come - on the old car it was not the case; it has remained what it was last year and we just kept on using it while we waited for the new car - so I believe we have a very good car that should only go better, not worse."
A nice try, don't you think.
You may have seen some photos of me sharing an intimate moment with the wife of Bernie at the A1-Ring. These were also viewed by Lieblings Doughnut, but I was quite clear in pointing out to her, (my pudge wudge, not Slavicia) that it was just a routine kiss between friends and there was absolutely none of the grappling involved.
Who knows, if she is a slight bit jealous of this perhaps we have 'Vroom Vroom Tuesday' more than once a month from now on...
The Austrian race is one of great drama and honestly none of which is witnessing by me.
Here is what happened:
I come into the pits, right into my box, and stop. Okay, foot on brake, take in clutch, sing the pit-stop song. So I'm singing my pit-stop song, la-la-la, la-la, la-la-la. The stop is taking more time than the usual, but they have warned me that Rubens was delayed, so a bit annoying, but not too bad.
Then all of a sudden they are squirting foam past me. 'Scheissen trousers!' I am thinking as I look in the mirror and see the refuelling hose on fire, 'Let's get out of here'. So when the lollypop goes up I am out of there in less time than a Jaguar driver's contract*.
Afterwards everybody is saying 'Supercool Schu the hero', but it is not until one lap later that Ross tells me on the radio that I am being put on fire also.
I am totally amazement that I have won the race, but this is Formel Eins for you.You can have three bad races and then three good ones. My only problem is that Robo-Kimi, the driver with all the personality of a barnacle and the charisma of a damp towel is not eclipsed by Rubens by the finish, when clearly he could have been.
I think perhaps Jean should mention two magic words in his ear before the next race, and the first one is Fernando.
*a small joke here
---
<< Part 22 | Secret Diary of Michael Schumacher | Part 24 >>
---
Disclaimer: I am not the author, but have archived these entries for posterity as I felt that they were so well written by "Michael Schumacher" for Planet-F1 (who have removed almost all of the originals from their website).